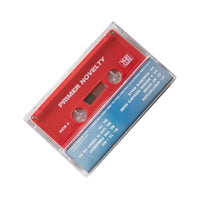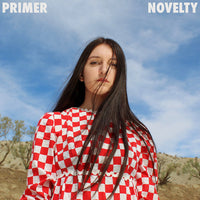 Primer - Novelty (Cassette)
Description
A limited run of Primer's debut album "Novelty" on red cassette tape.
Primer is the alias and creative project of vocalist/producer Alyssa Midcalf.

With her debut album, Novelty, Midcalf showcases her skills as both a vocalist and songwriter. The sound of the album, which was composed heavily on a Roland Juno synthesizer, is characterized by driving drum beats, sub-heavy bass lines and shimmering synth leads. Midcalf's vocals are airy yet dynamic, binding her songs together with a reverberating surrealism. To see these elements on full display, look no further than her haunting cover of The Beach Boys song Til I Die.

Partly inspired by the indie time travel film of the same name, Midcalf says she was also drawn to the sense of futurism the word Primer invokes. This is fitting with the tone of her debut album, which brings to mind images of a dystopian disco.

Midcalf, who gained some attention as one half of the duo Parts, made her introduction as Primer with the single Anesthetized, released on YHS Records in 2018.
Track List
Anesthetized
My House
A Broken Person's Game
Concrete Walls
Til I Die
The Firmament
Life Is Funny! Ha Ha
TVI