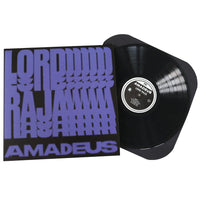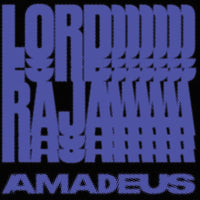 Description
What does a daydream sound like? Is it an audible confidence boost, a concentrated dose of caffeine shot straight into the bloodstream of dancing feet, a blue so overwhelmingly electric its field stretches as far as the eye can see? On Amadeus, the latest Ghostly effort from New York's Lord RAJA, the shapeshifting producer answers his own question with a cunning, childlike purity not felt since he started tinkering with Fruity Loops aged six.

Though his means of music-making have matured since then—on Amadeus he utilizes an arsenal of drum machines along with synthesizers and an Allen & Heath analog mixer slammed through for extra crunch—RAJA describes a deliberate return to youthful experimentation and immediacy, clearing the way for a "vista to his childhood."

Longtime fans of the producer may be accustomed to productions more directly aligned with hip-hop and leftfield beats, but his swagger hasn't gone anywhere despite the decidedly dancier change of form. The release is bookended by an exuberant and naturally collaborative piece with AceMo—a fellow New Yorker whom RAJA describes as his favorite producer—and bonus track "Fox Den," an eight-minute cosmic meander released as part of the Adult Swim singles series last year. On standout "O.K" his customary percussive potpourri mingles with vocal chops and an electro bounce even the most humorless club patron couldn't resist. "Black Coffee," another highlight, features synth lines so darkly acidic they should come with toxic warnings. RAJA describes the track title as a literal take - a soundtrack to jolt first date jitters, a call to cool courage.

Amadeus, meanwhile, he suggests is a cheeky nod to the complex richness of his musical heritage. He says, "I think it's kinda funny to flip an idea of western imperialism and how it proliferated. It's playful as an Indian man to call yourself Amadeus, knowing how much composers borrowed from eastern classical influences."

Now being released on vinyl for the first time in collaboration with YHS Records, the original eight track EP has been expanded to include three new songs.
Track List
A1 Streets Of Rage
A2 Streets Of Rage 2
A3 Madrid City
A4 Barrel
A5 O.K
A6 Dante
B1 Mantra
B2 Black Coffee
B3 Picasso
B4 Colors
B5 Fox Den