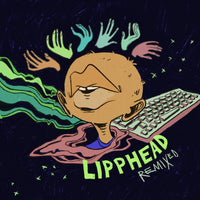 Lipphead - Lipphead Remixed (7")
Description
What happens when you combine groovy New York funk with deep southern Georgia soul? The Lipphead Remixed EP aims to find out.


Released on both Young Heavy Souls and Philos Records, digitally and on 7" vinyl, the offering is a one of a kind amalgamation of tastemakers producing a unique electro-sonic sound.

Lipphead is the 2019 collaborative project from New York producers Blockhead and Eliot Lipp. The self-titled EP release on Young Heavy Souls includes two tracks, "Slippery Fingers" and "Just To Prove." When Philos Records label mates Daily Bread and Derlee heard the two track work from their peers, they were inspired to put their individual spin on the sounds. This duo's debut collaborative recording occurred back in 2016, with their 9-track Divided Souls LP release. Combining vision and style again, the Lipphead Remixed EP sees the pair each handling one track and flavoring them with southern grit and soulful samples.

Rhett Whatley, aka Daily Bread, started producing beats from his bedroom in 2014 armed with an MPC, a massive record collection, and a background in jazz guitar. His beat head sensibilities found him crafting unique electro-soul and hip-hop tracks that needed to be heard. After releasing a few tracks online, the project was quickly noticed by indie record label Philos Records and he soon joined the ranks of several like-minded artists. Nine full bodies of work later, Rhett is using his precisely honed skills to further the Daily Bread sound and bring his unique vision to ears across the globe.

Born and raised in the Pittsburgh metropolitan area, Derlee's take on music very much embodies that of the region in which he hails – a region that takes great pride in its hard-working Blue Collar roots, as well as its transformation to a present-day leader in innovation. Derlee's brand of "Chill-Hop/Soul" is a seamless blend of sample-based music, reminiscent of a much simpler time, meticulously woven together with smooth melodies and contemporary Hip-Hop/Electronica. As heartfelt as it is optimistic and forward-thinking, its honesty is evident by an abundance of soul.
Track List
A1. Slippery Fingers (Daily Bread Remix)
B1. Just To Prove (Derlee Remix)