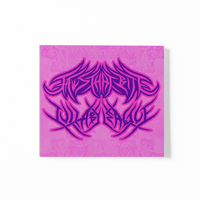 Jaws That Bite - Lullaby League (CD)
Description
This is a Pre-order. CDs are expected to ship October 2023. 
As a multi-instrumentalist, producer, and all-around sorcerer of sound, Jaws That Bite brings a prominent musical element to traditionally rhythm-centric Electronic genres. Homemade percussion loops, dissonant vocal chops and wafting synthesizers melt together in the surreal soup of his sound. Following the release of his 2021 album 'Glacial Medicine' – which was celebrated by Bandcamp curators and expanded for a Deluxe reissue with remixes from Daedelus, Mux Mool, and Noer the Boy – Jaws has conjured a darker, grimier listening experience on his forthcoming full-length LP 'Lullaby League.'
Featuring 10 new tracks, 'Lullaby League' sets a more suspenseful tone than his previous releases and strikes with immense force. Embracing the juxtaposition of sounds, the artist melds the unsettling with the beautiful, mediates distortion with tranquility, and invites fans to embark on an emotional journey alongside his meticulously-crafted sonic structure. With driving beats, warping synths, guitars, vocals and organic field recordings which morph into surreal atmospheres, 'Lullaby League' showcases a wide array of genres and sounds while staying true to Jaws' creative vision. 
On his inspiration for the record, Jaws explains, "I was heavily inspired by cinematic visuals, from the whimsical to intense chase scenes and cyberpunk plotlines. Scoring a film has always been something I've wanted to do and with that idea in mind, I wanted these songs to tell their own unique cinematic story with sound."
He adds, "The title itself was inspired from a scene in Wizard of Oz, but it eventually morphed into putting my own twist on what a lullaby could be. I was heavily inspired by Vangelis and all the music he scored for Blade Runner. I've often been told that fans like to drive while they listen to my albums. I really tried to run with that idea for this album. It has a fluid motion that flows throughout and, once it's over, flows back perfectly to its beginning."
Carving out a unique sound, 'Lullaby League' exemplifies the multi-faceted nature that established Jaws That Bite as one of the Midwest's most exciting emerging Electronic producers. The result is an album that rewards listeners with equal parts cohesion and idiosyncrasy and will undoubtedly keep them coming back for more. 
Track List
1. Cauldron
2. Weather Patterns
3. Eyelid Light Cycle ( ft. mva )
4. Air It Out
5. Beauty Sleep
6. Deep End
7. Big Risks
8. Animorphs
9. Burner
10. Treehouse