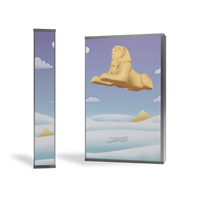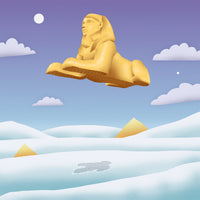 Jaws That Bite - Glacial Medicine (Cassette)
Description
Glacial Medicine is an expansive collection of new music from Jaws That Bite. Composed over the last three years, and honed live on stage, the album aims to encapsulate the various dimensions of Jaws'
immersive sound.

From grinding, grimy bass music that evokes the sinister atmosphere of a John Carpenter film, to ethereal, introspective electronica
reminiscent of a Lena Raine video game score, Glacial Medicine plays like "an unearthed soundtrack to a lost sci-fi film."

When describing the aesthetic of the album, Jaws states "This album flows through various emotions, carried by elements of sci-fi,
world-building, post-apocalyptic, retrowave, cyberpunk and New Age vibes."

The artwork for the album was created by Detroit artist Tim Scott. The imagery of circuit-powered sphinxes, ominous beams of light, and mystical stone relics act as the perfect visual representation of Jaws' sound.

Glacial Medicine arrives December 10th, 2021 on Young Heavy Souls and will be available digitally as well as in record stores on limited edition cassette tape.