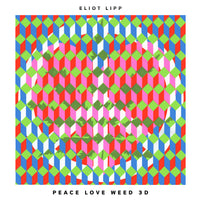 Eliot Lipp - Peace Love Weed 3D (LP)
Description
Eliot Lipp's new album "Peace Love Weed 3d" flat out covers a lot of ground in ten songs. The record's style varies quite a bit throughout; exploring his signature instrumental electro-funk, acid, fusion, and even italo disco inspired sounds.
Peace Love Weed 3D began as a collection of loose sketches made on various drum machines and synthesizers recorded to tape. This source tape was then cut apart, resampled, and enhanced with theaddition of more samples and live instrumentation. Lipp chose to work for the first time with a studio guitarist. He met Guitar Ron in the Subway station close to his studio. Throughout this album his efforts blend perfectly with Lipp's exquisite taste in sound as the synth and guitar leads weave effortlessly into thick chords and complex drums.
Since his debut in 04' on Prefuse 73's Eastern Developments label, Lipp has been a major factor in the world of electronic music. His past releases on Mush, Hefty and Money Studies have also earned him praise from fans and critics everywhere.It's a pleasant surprise that Lipp found the time and effort to make such a well crafted album. Along with his various side projects, live band, and relentless touring which has made him a crowd favorite all over the country. Last year he started the Old Tacoma Records label to release and promote his music. Peace Love Weed 3D is the first full length on Old Tacoma Records and a true highlight in Eliot Lipp's impressive musical catalog.
"Despite being real sick with the skills, Eliot Lipp remains one ofthe most under-rated producers in the game." -Turntable Lab
"Eliot Lipp. draws his tracks from the dusty era of analog synths,conjuring futuristic visions along with a dose of Ed Koch-era New York hip-hop" -XLR8R
Track List
A1 Yeah 4:20
A2 Proceed 4:20
A3 Sentinel 4:20
A4 P.L.W.3-D 4:20
A5 So Stoked 4:20
B1 Calling Me 4:20
B2 Glowstick 4:20
B3 Sand Castle 4:20
B4 Laser Cave 4:20
B5 Beamrider