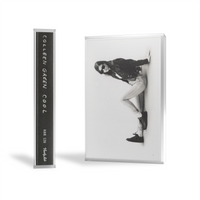 Colleen Green - Cool (Cassette)
Description
Colleen Green has always been cool, but on 2015's I Want To Grow Up, she didn't necessarily feel it. Too young to be free of insecurities but old enough to be sick of them running her life, Green was experiencing an existential crisis. Five years and a new album later, we find her parsing out what it means to be grown-up—and realizing that it's actually pretty Cool.
Burnt out on bad feelings and ready to have fun with melodies and beats, Green enlisted producer Gordon Raphael (The Strokes) to take her songs to higher ground while keeping her lo-fi aesthetic intact. Raphael was already a fan, having caught a show in L.A. and finding himself "struck by how confident and powerful she looked, even though she was the only one onstage." He agreed to take the gig, and together with drummer Brendan Eder and hip hop producer Aqua over a few weeks in Los Angeles, Cool was created. 
The album's themes come together on the anthemic "It's Nice to Be Nice," Green's reminder to herself that you get what you give, so it's important to try and be the best person you can—a hard-won but essential lesson in the emotional maturity that defines Cool.
Track List
Someone Else
I Wanna Be a Dog
Posi Vibes
Highway
Natural Chorus
You Don't Exist
It's Nice to Be Nice
How Much Should You Love a Husband?
I Believe in Love
Pressure to Cum