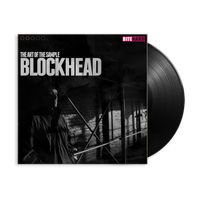 Blockhead - The Art of the Sample (LP)
Description
The Art of the Sample is a unique project for New York hip-hop producer Blockhead. After receiving access to De Wolfe's legendary music library, he created his own library record of laid-back instrumental hip-hop.
In his own words "These are not typical Blockhead songs. They're more stripped down and focused for the purpose of being used in TV and film. For those who are unfamiliar with De Wolfe, they are a music library that has been doing music for film, radio and television for nearly 100 years. They make original music that gets plugged into all sorts of things and has been heard around the world. If you're a producer, you have very likely sampled them and not even realized it. I was fortunate enough for them to allow me to make an album entirely out of their back catalogue.
The 14 track album will have a limited pressing of 1000 copies through Young Heavy Souls.
Track List
A1 Silky Serene 2:48
A2 Jellyfish 2:34
A3 Seven Tease 2:21
A4 Invisible 2:20
A5 Coastline Cruising 2:32
A6 Black Silhouette 2:22
A7 Eyes Open 2:22
B8 Posse 2:39
B9 Frank's Brother 2:31
B10 Skip 2:16
B11 Take a Drag 2:27
B12 Blessing In Disguise 2:32
B13 And The Winner Is 3:02
B14 Gleam 2:39