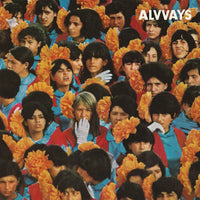 Alvvays - Alvvays (LP - Orange)
Description
Alvvays are two women, three men, a crate of cassettes and a love of jingle-jangle.
Molly Rankin and Kerri MacLellan grew up as next-door neighbours in Cape Breton, lifting fiddles and folk-songs. Heartbreaks of different shades soon entered their lives, as did the music of Teenage Fanclub and Belle & Sebastian. Similar noisy melancholy drifted over to Prince Edward Island, finding Alec O'Hanley, Brian Murphy and Philip MacIsaac.
Convening in Toronto, the group have been making music since dusk or maybe dawn, when stars were appearing or fading off. As a result, their debut self-titled album is both sun-splashed and twilit -- nine songs concealing drunkenness, defeat and death in tungsten-tinted pop that glitters like sea glass.
With needlepoint melody and verse, Rankin and O'Hanley's songs were recorded at Chad VanGaalen's Yoko Eno studio and mixed by Graham Walsh (Holy Fuck) and John Agnello (Sonic Youth, Dinosaur Jr., Kurt Vile).
The resultant album is loud and clear and sure. Flood your ears.
Track List
A1 Adult Diversion
A2 Archie, Marry Me
A3 Ones Who Love You
A4 Next Of Kin
B1 Party Police
B2 The Agency Group
B3 Dives
B4 Atop A Cake
B5 Red Planet