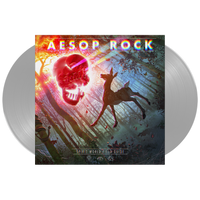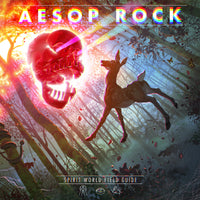 Aesop Rock - Spirit World Field Guide (2XLP - Ultra Clear Vinyl)
Description
"Be not afraid! Whether you're simply sightseeing, enjoying temporary flights of fancy or considering a more permanent relocation, the all-new Spirit World Field Guide offers twenty-one insightful chapters of firsthand know-how into the terrain, wildlife, and social customs of our parallel universe. The narrator's vast expertise of multiple global entry points and various modes of inter-dimensional transport informs a rich tapestry of tips, tricks and tools to unfailingly aid in your ultimate survival. If you are among the countless individuals who find themselves feeling both dead and alive at the same time, the information contained within may serve as an invaluable asset to your journey. Godspeed and good luck."
Those are the words of the album's narrator -- an attempt to prepare listeners, both old and new, for a safe entry into the Spirit World.
It's been a long road for Aesop Rock to get here, releasing a steady stream of impressive albums, singles, and collaborative projects that have continued to invigorate, solidify and grow his diverse fan base, but he shows no signs of slowing down or deviating from his path, constantly pushing his creative limits. Last year saw the release of Malibu Ken, a joint effort featuring the psychedelic and trippy sounds of producer Tobacco, providing a different type of intrigue for Aesop's descriptive, compelling, and often humorous, writing. Then, he kicked 2020 off with a hard-driving single, "Rogue Wave", followed not long after by Freedom Finger, which found Aesop immersing himself in the video game world that the music was written and produced for. And this year still has a few exciting releases on the horizon yet, a 20-year anniversary vinyl release of his debut album, Float, and now his brand new album, Spirit World Field Guide.
Vinyl packaging includes double ultra clear vinyl with direct-to-disc imprinted labels, 12" gatefold jacket, printed record sleeves, sticker sheet with 20 transparent kiss cut stickers and free digital download card.
Track List
1. Hello From The Spirit World
2. The Gates
3. Button Masher
4. Dog At The Door
5. Gauze
6. Pizza Alley
7. Crystal Sword
8. Boot Soup
9. Coveralls
10. Jumping Coffin
11. Holy Waterfall
12. Flies
13. Salt
14. Sleeper Car
15. 1 to 10
16. Attaboy
17. Kodokushi
18. Fixed and Dilated
19. Side Quest
20. Marble Cake
21. The Four Winds