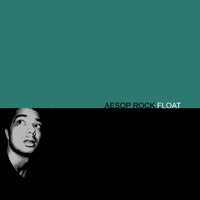 Aesop Rock - Float (2xLP - Green)
Description
In 2000, Aesop Rock released his first official album, Float, following his steady ascent in the underground from two previous releases, the collection of works CD of lore, Music For Earthworms (1997), and the Appleseed EP (1999). And, while every album Aesop has done since then has captured his continual evolution as both a producer and a writer, Float was undeniably exceptional in its own right.

For one, there was something impacting about a full-length album, 20 tracks deep, that never had any singles. Every track only existed as part of the album experience. That in mind, the album's production is split nearly in half between Aesop Rock and longtime collaborator and good friend, Blockhead, as well as one offering from Omega One, the Reggae-vibed "Skip Town". The album's production largely seems to have one collective goal, to immediately capture the intended mood, luring the listener in and leaving them attentive and prepared for the carefully crafted accompanying lyricism.

Lyrics in mind, Aesop Rock is clearly the star of the record, but the few guest appearances, strategically spread throughout the album, are either the result of great foresight or unavoidable synergy—perhaps both—as Slug (of Atmosphere), Vast Aire (of Cannibal Ox), and Dose One were all right in the midst, or directly on the verge, of breakthrough career moments of their own around the same time they were featured on Float. As for Aesop, the album finds him diving deep into his intricate, visually descriptive and emotionally riveting writing style, which has only gotten more vigorous and diverse over time. His delivery feels settled into the hints of urgency, as if he is well aware that the journey and challenges, as well as triumphs, that he shall face are arduous and plentiful.
Track List
Float
Commencement at the Obedience Academy
Big Bang
Garbage
I'll Be Ok (feat. Slug)
Breakfast With Blockhead
Basic Cable
Fascination
Oxygen
Skip Town
6B Panorama
Lunch With Blockhead
Spare a Match
Attention Span (feat. Vast Aire)
How to Be a Carpenter
Prosperity
No Splash
Drawbridge (feat. Doseone)
Dinner With Blockhead
Mayor and the Crook