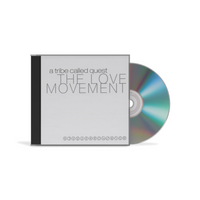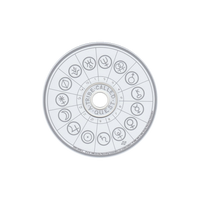 A Tribe Called Quest - The Love Movement (CD)
Description
Sensing that the darker hues of Beats, Rhymes and Life might have isolated them from audiences, their fifth outing The Love Movement pursued a lighter, but still thoughtful touch—especially regarding its songwriting. Clocking in at 15 tracks on the standard pressing—and 21 tracks on the special edition that sported several classic Tribe tracks, albeit remixed—almost all of them were solid party jams. Celebratory ("The Love"), romantic ("Find A Way") and playfully boastful ("Start It Up," "Pad & Pen"), The Love Movement floats on its own cool, lyrical cloud.
Q-Tip and Phife Dawg's rhymes—whether operating parallel to each other or jovially sparring—are in peak form per usual. Q-Tip is his ever handsome, hypnotic self. Phife Dawg provides a pleasant contrast with his own equally fetching rough-edged charm. See the cunning and succinct boogie of "Da Booty" for details.
Featured guests are plentiful. Fellow colleagues of the period step in and include (but aren't limited to) Busta Rhymes, Redman, Noreaga, and Mos Def. Resulting numbers like "Rock Rock Y'all" come off crowded given that Q-Tip and Phife Dawg can carry The Love Movement on their own. But, collaboration is one of the traditional tenets of hip-hop and it's likely that the intended audiences were unfazed by the guests along for the ride. What's most important is the chemistry between the lead Tribe emcees and how it interfaces with the music itself.
The Ummah once again create their own modern, musical pulse across the expansion of The Love Movement. And while The Ummah splits between three individuals, one cannot deny that it is Ali's singular sensibility of organic and inorganic sound cross-pollination that shines here. This component had always been central to the threesome's previous four recordings and that is true for The Love Movement too.
In retrospect, The Love Movement kept A Tribe Called Quest on the ever-changing front lines of hip-hop to advance the diverse musicality of the artform. Obviously, some of this can be attributed to the contributions of J Dilla, who was seminal in reworking the alternative hip-hop landscape of the early 2000s prior to his own untimely passing in 2006. But, The Love Movement on its own minimalist merit remains unique in the A Tribe Called Quest canon.
Q-Tip, Phife Dawg and Ali Shaheed Muhammad managed to craft another offering full of brains, brawn and heart despite any internal problems and conquer the considerable challenge of matching the excellence of their previous discography entries—the record was indeed a movement all its own.
Track List
1 - Start It Up
2 - Find A Way
3 - Da Booty
4 - Steppin' It Up
5 - Like It Like That
6 - Common Ground (Get It Goin' On)
7 - 4 Moms
8 - His Name Is Mutty Ranks
9 - Give Me
10 - Pad & Pen
11 - Busta's Lament
12 - Hot 4 U
13 - Against The World
14 - The Love
15 - Rock Rock Y'all
16 - Scenario (Remix)
17 - Money Maker
18 - Hot Sex
19 - Oh My God (Remix)
20 - Jazz (We've Got) (Re-Recording Radio)
21 - One Two S**t
Artist Bio
A Tribe Called Quest was an American hip hop group formed in St. Albans, Queens, New York, in 1985, originally composed of rapper and main producer Q-Tip, rapper Phife Dawg, DJ and co-producer Ali Shaheed Muhammad, and rapper Jarobi White. The group is regarded as a pioneer of alternative hip hop music.