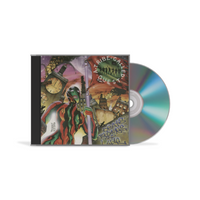 A Tribe Called Quest - Beats Rhymes & Life (CD)
Description
For Beats, Rhymes and Life, The Ummah created a minimalist sound reminiscent of The Low End Theory, which Ali Shaheed Muhammad described as "nothing extravagant, nothing far out." Miles Marshall Lewis of The Source praised The Ummah for being "the most proficient in the rap game at using samples as instruments in themselves."
Regarding Jay Dee's five contributions to the album, Q-Tip stated, "He would just send me the beats and then I would lay them." One of his contributions, the lead single "1nce Again", was hailed as "one of the few successes" on the album and a "surprising R&B crossover."

Lyrically, the group addresses "everything from O.J. to spirituality" and were recognized for the complexity of their messages. 
Track List
1. Phony Rappers
2. Get A Hold
3. Motivators
4. Jam
5. Crew
6. The Pressure
7. 1nce Again
8. Mind Power
9. The Hop
10. Keeping It Moving
11. Baby Phife's Return
12. Separate/Together
13. What Really Goes On
14. Word Play
15. Stressed Out