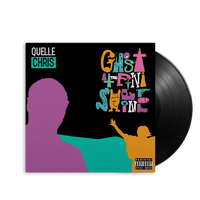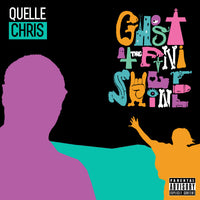 Quelle Chris - Ghost At The Finish Line (LP)
Description
"Quelle Chris' album "Ghost at the Finish Line" dropped via

 

Mello Music

 

late last month. Coming on the heels of the slept-on mixape "Niggas Is Men", the title of his latest effort appears to be the reluctant admission of something we all know but ignore ever day. This is Chris coming to terms with the fact that attempting to create lasting art in the face of his mortality, his impermanence, might be futile. Thus, much of the record is

 

a meditation on all that's made his life worth living, an attempt to answer one question: Has rap really been worth it?"
"This is backpack crime rap. Chris, Vessey, and Black Milk all manage pack the menace of dark Detroit alleys at midnight into three minutes. No amount of watching The Wire can help you to rap like those who've seen the seedy side of the D first hand."

"Production throughout Ghost at the Finish Line is heads above so many rap albums this year. It contains samples and loops from a trained digger..."
- Max Bell

Track List
01. You'll Be Your Star (feat. Jimetta Rose)
02. Loop Dreams
03. What Up
04. Wait a Minute (feat. Denmark Vessey)
05. Super Fuck
06. PRX II (feat. Guilty Simpson & Alchemist)
07. King Is Dead
08. Undying
09. Coke Rap War Game (feat. Black Milk & Demark Vessey)
10. With Open Arms (feat. Marvwon, Fuzz Scoota of D12, House Shoes)
11. Look at Shorty
12. Life Beyond (feat. Mosel)
13. Ghost at the Finish Line